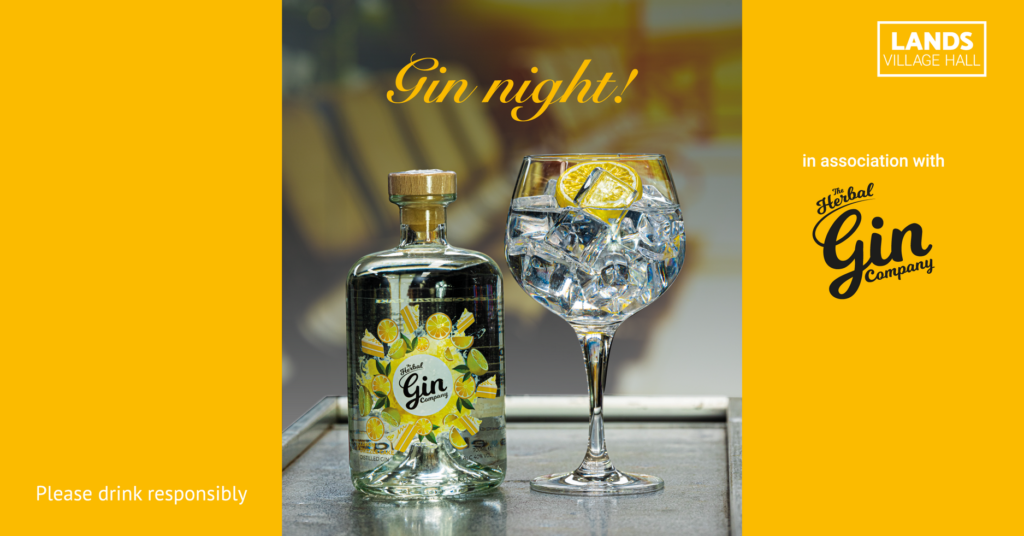 Lands Gin Night: 10 June, 7pm at Lands Village Hall
Join us at our gin night for a delicious gin. The evening is brought to you by The Herbal Gin Company, a local gin distillery in Newton Aycliffe.
You will enjoy tasting their modern twist on a classic. You will find a range of great flavours for you to try out for yourself. Will the Seville Orange, Lemon Drizzle Cake, or Rhubarb and Ginger tempt you? But if one of those doesn't work your tastebuds into a frenzy, then perhaps one of the other eleven great flavours will. And when you've found your flavour, the licensed bar will happily serve you a glass. You can even take a bottle away with you to enjoy later.
You will find the passion of your hosts is infectious as they offer you a glimpse into the wonders of gin. The Herbal Gin Company established in Newton Aycliffe with its first still arriving the week of the first national COVID–19 Lockdown. But that hasn't stopped them from pushing forward and establishing themselves, receiving silver medal international awards for their Raspberry & Vanilla, and Rhubarb and Ginger with a hint of Chilli.
What to expect
The night will involve a number of samples of gin from the range offered by The Herbal Gin Company. These samples will be accompanied by a discussion of the distillation process and how gin is flavoured. On the night, you can purchase a full measure of any particular gin you prefer from the range offered by the distillery. Additionally, you can buy full– or half–bottles, selection bottles, or a presentation gift set from the range to take home for yourself, or as a "Christmas present for Aunty Gertrude"….
The night should be fun, friendly and sociable: something we all need after COVID–19. So, let your hair down, enjoy some lovely gin flavours and be prepared to enjoy yourselves!
This event is a licensed event, so strictly adults only. Free entry. Please drink responsibly.
Find out more on Facebook.
Find out about our events.
The following two tabs change content below.
Lands Village Hall was built in the 1870s or 1880s for the local miners. It became the village hall in 1955 and has been run by a charitable trust ever since. Lands Village Hall Trust believes in equality and diversity, and welcomes everyone through its doors. It is supported by Durham County Council and the local community. The Trust is an active member of The Village Halls Consortium. We welcome the support of the local community and people from further afield. If you wish to support or contribute, please get in touch with us.
Latest posts by Administrator (see all)