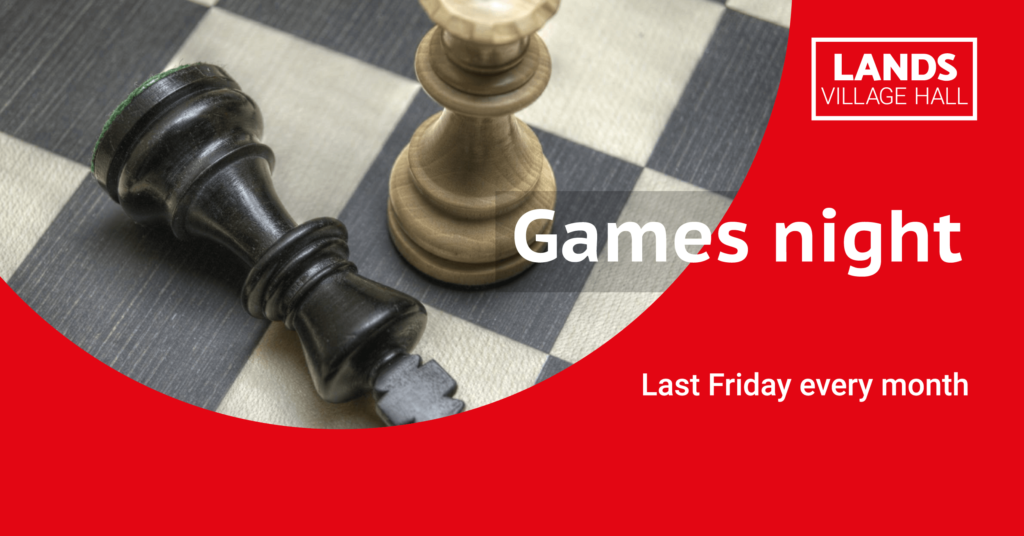 Games night: last Friday every month, 7pm—10pm
Lands Village Hall
Some people have a guilty pleasure: they enjoy nothing more than spending a night playing board games, like it's the 1980s. If this is something you relate to, then you are not alone; there is help out there and we can provide you with support. We promise we won't judge.
We simply provide an ever–growing collection of games and Fantasy Role Playing Games to help satiate your needs each month. As we are starting this activity our games list is limited, so feel free to bring along your own to play with like–minded individuals.
So, if you want to play chess, or enjoy a well–known classic, our Games night is your go–to place. As we build our collection of classic and modern board games, you will have a growing list of games to try. Who knows who will be the chess champion, or the tycoon with the hotels on Mayfair and Park Lane? Maybe, next month you will be the trivia champion.
Also, if you're keen to relive your experiences or try your hand at RuneQuest® or AD&D™, please get in touch. We hope to develop a regular team of brave heroes for one of these cult classics. Whether you are an experienced dungeon delver, or are inexperienced at living in a dark dungeon surrounded by traps and fiends, we'd like to hear from you.
This programme activity is designed for adults and supervised children over 12 years old. Light refreshments are available during the evening.
Members: FREE, non–members: £2.
Find out exact dates and more information on Facebook.
Find other regular programme activities at Lands Village Hall.
Latest posts by Administrator
(see all)